Remove Online Reviews, Made Easier with Online Reputation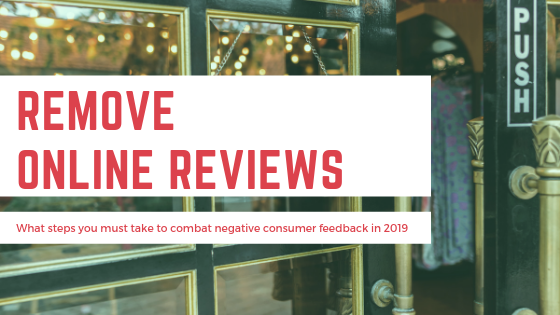 What is the secret on how to remove online reviews? Negative consumer feedback and reviews are the leading deterrents for prospective customers and clientele.
90% of consumers utilize online reviews before making any purchasing decisions.
So how do you maintain a positive image for your company despite what a few people said about you online?
For starters, you present the facts and admit fault and responsibility for any wrongdoings. In this article, we will break down the most effective ways to remove online reviews when possible.
In 2019, the internet is home to various tools to assist you and further protect your company's brand from being slandered online. Unfortunately, consumers are more likely to leave a negative review over a positive one, why is this? What can you do to combat this negativity and protect your online reputation?
Let us walk you through the best steps you can start to implement today so you will be ready to deal with any brand crises that come your way. But first, let's cover why you would need to remove online reviews in the first place.
Request a Free Consultation
Why Should You Remove Online Reviews?
In this digital era as you may already know, consumers turn to the internet for everything. What should they eat for dinner? Where should they go on vacation? What is the best restaurant in town? This is why it is so crucial to maintaining positive reviews, they are your initial "selling points" and decider of whether your brand is trustworthy or not.
For most business owners it can be difficult to generate reviews online for your business. Not to mention positive reviews. Consumers love to smear the reputation of businesses where they felt the service they received was inadequate or subpar.
Removing online reviews can be extremely beneficial. When a negative review is posted, as a business owner, you must know the best course of action to decrease any negative impacts.
To remove online reviews on sites such as Yelp, BBB, and Google there are specific guidelines reviewers must pass in order for their comments to "stick". This prevents a random individual from posting nasty reviews for no reason.

Can You Remove Bad Online Reviews?
In short, yes and no. There are many ways to have a review removed but they must adhere to the policy guidelines of that particular review platform (Yelp, BBB, Google, etc).
For example, you cannot remove online reviews just because you do not like them. About two years ago there was no possible way to remove negative (or misleading positive) reviews on the internet. You simply had to deal with it and roll with the punches.
In order to remove online reviews, you must be able to prove that the person who left the review was either lying, never a customer, or in some cases, they are a competitor looking to defame your brand. This helps filter out reviews such as "I called them and they were rude" or "their location was messy so I left without buying anything". In order for a review to remain online, it must come from a customer and contain honest feedback.
Over recent years review sites have caught onto this theory and updated the way they operate in order to assist businesses through these tough and stressful times.
So generally speaking, you can remove online reviews IF you meet the criteria. Although it can be rare for these sites to comply right away, it is possible.
If you are currently struggling with negative reviews and cannot figure out the best way to handle it please contact us for assistance, 786-363-8509.
We recommend visiting each review platform and thoroughly reading their privacy policy as well as their terms and conditions pages. When creating new profiles on additional platforms or business listing read these pages before building the profile.
Here are the top 5 review platform we recommend:
Google My Business

Yelp

Amazon (for products)

TrustPilot

G2Crowd
Request a Free Consultation
Best Ways to Remove Online Reviews (if applicable)
As you work to combat negative reviews online it is important to remember that you are a business and others will see your rebuttals and answers to preexisting negative comments.
Since you are working to protect your reputation remain positive, calm, and always take responsibility even when you know you are right. This will resonate with prospective customers who are considering buying from you, creating instant trust.

Removal Option 1:
Contact the individual who left the review and incentivize them to update or remove it. Many businesses will offer gift cards, money-back, or even free products if that means restoring their reviews to its former glory.
Here is a shortlist of the best consumer incentives to curate positive reviews online:
Price Reductions: rebates, coupons, discounts, B.O.G.O. deals, etc.

Loyalty Plus Programs: Store credit, as this encourages repeat business

Promotional Items: Offer free merchandise, this makes them happy and markets your brand at the same time. Because everyone loves free gifts.

There are many more options, please visit  the following link to see more options (

click here

)
Removal Option 2:
Contact the support team of that particular review platform and seek removal options. If you can prove that the individual who left the review was never a customer, there is a great possibility that they will update your review.
Yelp, for example, does this automatically. If an individual leaves you a negative review but recently created that Yelp it will get buried. 9 times out of 10 it will be suppressed to the bottom of your profile and included under "not recommended reviews" section. These reviews DO NOT count towards your overall star rating.
How Does Guaranteed Removal Help Remove Online Reviews?
After years of working in the online reputation management industry, our team has simplified the process of managing reviews. Through various non-aggressive tactics, our team will reach out to your former clients (mostly through email) and request an update on a preexisting negative review.
In addition, we reach out to those who have not left a review and offer them those incentives listed above. (i.e. $10 Amazon gift cards, etc.)
Although this service is not for everyone. If we believe you were falsely accused of something and it is out of your control we will work to remove or edit the review. So you can focus on what's really important. Running your business. Reviews are stressful enough, let the pros handle it for you.
Needless to say, as a business owner or vested employee you need to make it a top priority to routinely monitor your online reviews. Tools such as Google Alerts can easily assist throughout this process. Simply track the name of your business and the name of the owners. You will receive email updates and notifications anytime something new to published online referencing your business.
All solutions to either remove online reviews or generate positive feedback start at $500 a month. Depending on the desired amount of reviews, timeframe, and the number of locations the prices will vary.
Contact Guaranteed Removal today if you are serious about your online presence and growing your brand. There are no requirements for signing up. What are you waiting for? Click here to get started now.
Request a Free Consultation