Importance of Positive Online Content in 2021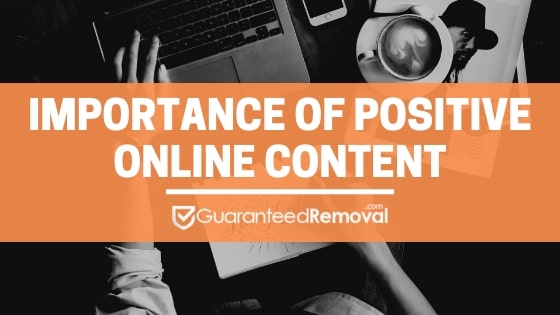 Do you know the importance of positive online content? In this article, we will uncover the advantages and importance of curating positive data online about yourself.
The worldwide web and Google grow more widespread in our everyday lives. Therefore, the significance of your internet reputation has never been more important. Nowadays, companies thrive or die according to their online reputation.
With the simplicity and accessibility on the internet, everybody has access to Google. Where negative information is easier to obtain now more than ever before. The impact and severity of the negative post will differ, greatly impacting SMBs while larger corporations have more of a "safety net" when it comes to their online reputation.
At GuaranteedRemoval we all understand the importance of positive online content and how to improve upon a preexisting damaged reputation. Some cases can be quickly resolved by removing negative content as well that may exist online. Other cases take time, today we are going to discuss your options.
Want to learn more about how GuaranteedRemoval can assist your online reputation efforts? Please complete the form below to learn more about our process.
Request a Free Consultation
People Are Looking You Up
Every single day, more people look for information online before meeting them in-person or going into business with them. In a poll conducted in 2018, it had been determined that 86% of consumers frequently read testimonials online as well as research social media platforms. This virtually means that society as a whole is becoming increasingly more tech-savvy and are now able to quickly validate or criticize a specific individual or business online.
Additionally, 84% of people trust online testimonials just as much as in-person recommendations. This is why suffering from negative reviews (justified or not) is destroying your business or career as an individual.
Contrary to the information where news obviously fades away with time. The internet may keep stories relevant for several years after the fact. If left untreated, negative content may be the catalyst for big problems down the road. When it comes to protecting your online reputation, it is important to be proactive at all times. Never wait until something negative happens before you decide on building a safety net.
Learn how to avoid and deal with cybercriminals and trolls with GuaranteedRemoval.
More than Simply a Corporation
Especially with internet content, individuals are searching to find out as much information as possible. When consumers research online they spend more time validating an unknown business when compared to inspecting products or service descriptions. Consumers want to settle with a company they can trust, this is accomplished via online reviews and social media. Among the greatest examples of this can be Wendy's Twitter accounts that the firm used to increase earnings by $64 million annually.
Wendy's Twitter accounts are now famous for its extremely witty and energetic with customers. They are now a gold standard from the social networking marketing business for how to utilize online platforms to gain your business. At Guaranteed Removal, we highlight those social websites among the greatest reputation strategies to enhance your online reputation. However, it has to be used properly to avoid irreversible harm.
A Sprout Social study revealed that nearly 60% of respondents found that the brand was not using social media at its optimal levels. Most users reported only seeing discounts and sales instead of educating new potentials customers or their benefits and company beliefs.
Establishing Brand New Personality
Creating a new personality type on social media is important since it reflects your organization and your worth. However, the most significant part of a new online personality is the fact that it's consistent. For instance, Wendy's Twitter account presents a lighthearted joking character. But this does not indicate that is the sole way of increasing internet interaction. We view Wendy's Twitter account as a means to improve repeat customer visits and steer them away from competitors.
The most significant part of online reputation management is to make sure that your organization remains engaged with your internet community. Additionally, the information you produce is of the constant quality of work.
Here at GuaranteedRemoval, we all are aware that the significance and importance of positive online content being key. For a lot of us, it's the very first line of contact a possible customer will make with the organization. If this interaction is unfavorable, the sale may be over before it began.
By creating a positive online image, not only do you help combat any possible negatives you now have but to get future evidence yourself by establishing a bank of goodwill that helps to mitigate potential troubles.
Contact Us | Importance of Positive Online Content
If you are still curious regarding this topic or require further guidance or assistance please complete the form below. One of our knowledgable specialists will reach out to you via phone or email to address all of your concerns. Let GuaranteedRemoval help you discover the importance of positive online content today so you can be proactive about how you appear online. Guaranteed Removals is an affiliate of Web Presence, LLC dba NetReputation.com
Rome was not built in a day. However, let's make sure you are building a viable and evergreen foundation for the long-run. Protect yourself today with our professionals, what do you have to lose?
Request a Free Consultation