Remove Your Address From Google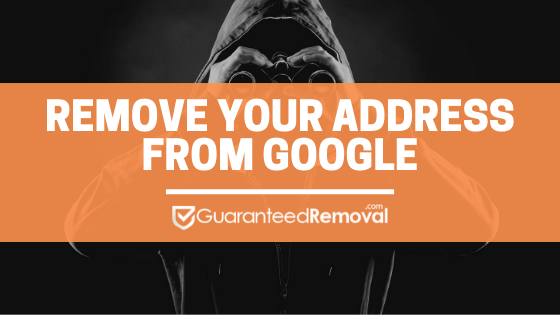 How Do I Remove My Address From Google?
Removing your address from Google is a daunting assignment, however, you might be able to recover your online solitude if you are prepared put in the work and get your hands dirty. To the surprise of most, Google does not own any of the content they show. The best way I like to describe Google is like a librarian, the librarian does not own any of the books in the library however they know exactly where everything is located and are happy to quickly show you.
In this article, we will discuss how you can work to remove your address from Google. This can be in the form of external websites, websites and social media profiles that you own personally or even how to notify Google once the content has been removed so they can update their search result pages.
If you or someone you know is working to remove their address from Google, along with other sensitive information you are in luck. GuaranteedRemoval's team of reputation analyst have perfected the way in which content is removed online. With over 100+ years of experience, please complete the form below if you would like some assistance with taking back control of your privacy online.
Request a Free Consultation
Third-Party Databases & Websites
When it comes to locating information about yourself or business online that you did not publish there are a variety of approaches you can take. Begin the process of locating yourself online by simply performing a quick Google, Bing, or Yahoo search for your name. The reason we say only use these 3 search engines is that a majority of the traffic across the world is found here. We recommend using Google amongst the three options.
As you scroll through the search engine results pages keep a record of what websites pertain directly to you. You can accomplish this by utilizing Google Sheets and creating a simple spreadsheet. This way you have a quick glance at each website (or to verify it has been removed) for future purposes if needed.
Once you have compiled a detailed list of where your personal and private information is lingering online you will revisit once domain once again. However this time with a different purpose, now you are looking for their sources or how they obtained your information. Typically this can be found within the website's terms and service page or their privacy policy. This way you know where to look next in order to completely eliminate your address and other sensitive information online.
If you are struggling to locate these pages, no worries, there are still a few things you can do. Next, you will venture over to ICANN's WHOIS tool which disclosing hosting information about a particular website. Therefore, if the website is publicly hosted you should be able to obtain the webmaster's contact information from which point you have direct lines of communication. Send the webmaster a simple email requesting that your information be removed.
Controlled Content & Personal Websites
Controlled content is anything you personally published online. For most individuals, their controlled content is found on social media or maybe a professional blogging domain. The first step you should take is again to create a spreadsheet. As rudimentary as this may seem, planning is key to ensure you are covering everything required. When it comes to removing your address from Google you cannot skip anything, or else the project is essentially pointless if your information is still somewhere online.
Log into all of your social media accounts
Make sure you have enables all privacy features and functionalities
Contact friends or family members that may have posted embarrassing information about you and ask them to kindly delete it from their profile
Some social media platforms do not offer privacy settings, in this case, make sure no revealing details are listed in your bio, geotags, or anywhere else on the page.

URL Removal
Once you have worked through all of the online media and content that you control you should begin reaching out to those websites from your initial list. In order to do so, you will need a viable email address. We recommend that you use a brand new email, so create a new Gmail and only use it as you work to remove your address from Google.
Once the webmaster has agreed to remove any content related to you on their website(s) you must notify Google's Support team via the "URL Removal" found within your Google Search Console. From this point, all you have to do is simply copy and paste the now dead (Error 404) webpage so Google to review it and update their results accordingly.
If you are struggling to reach a specific webmaster and the content you wish to remove endangers your physical well-being Google does a great job to understand your issues. Somethings (more often than expected) Google will de-index or blacklist a specific URL from ever appear in their results. This means the webpage still exists online, however, the only way another can view it is by directly visiting the website. This (in our opinion) works the same as a total removal.
Locating Yourself on People-Search Websites
Did you know there are dozens of websites (>50) that provide subscription-based service to simply view an individual's sensitive information? People-search websites are a combination of public records mixed with distributed content on social media.
For example, one people-search website, in particular, MyLife.com allows anyone to find anyone's home address, phone number, social profiles, criminal record and make more for no more than $10. This can be an extremely scary thought if you have a troubled past, have someone looking for you, was in an abusive marriage/relationship or even owe someone money. We have heard countless horror stories about people showing up to the home which resulted in the authorities getting involved.
In this digital age, we rarely give it much thought as to how much personal information is online. You assume that websites do their "due diligence" to protect their customers. However, this couldn't be further from the truth. Today, we live in a pay-to-play environment in a sea of endless amounts of information that we call the internet.
If you are interested in learning more about how GuaranteedRemoval.com can assist you with removing your address from Google please complete the form below. As one of our knowledgable reputation analysts to reach out to you by phone or email ready to answer all of your questions.
Request a Free Consultation
Expected Timeframe to Remove Your Address From Google
When it comes to the internet it is hard to give a concrete number. On average, after a website has removed content it takes Google, Bing, and Yahoo roughly 1-2 weeks before their results show any changes.