How to Expunge a Felony in Florida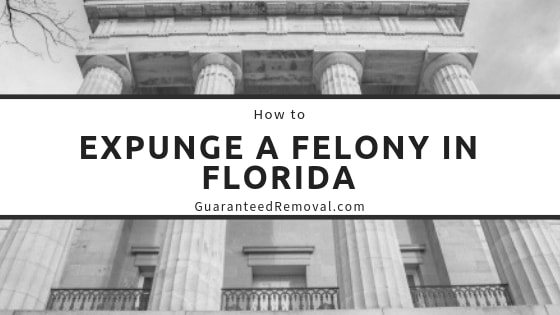 Looking to expunge a felony in Florida? For most, having a criminal record makes life much more difficult – especially a felony. It is important to hire a trusted team to expunge a felony in Florida for you. Having a felony in the state of Florida further increases the obstacle of locating jobs or pursuing potential opportunities such as buying a house or traveling. This is due to the accessibility of criminal documents and records that are easily made available through Florida courts and law enforcement agencies.
Unfortunately, the state of Florida does not allow anyone convicted with a criminal record to conceal that information, no matter where or when the conviction occurred. This does allow those that are eligible to be able to start fresh and rid yourself of a burdensome past criminal record. Reputation management is an excellent first step to take when looking for an expungement.
The overall process to expunge a felony in Florida does take time, but it is an investment in your future and takes away the limitations of a criminal record.
Request a Free Consultation
Record Expungement Process
Avoiding some of the smaller mistakes can save you from having to restart the entire process – which can take up to months or years. Many individuals that are seeking to partake in the expungement process utilize superb attorney representation which can aid in speeding up the process.
Following successful completion, your record will be clear and anyone that wishes to seek any criminal information about you will be unable to find it. This means no more mugshots or criminal reports on Google, Bing, or Yahoo! This will allow you to take your life back and be in control of what the world sees about you.
How to Expunge Your Criminal Record
As mentioned previously, you can not expunge or seal your criminal record no matter how long ago it was. In order to properly expunge a felony in Florida, you have to appear at the court where the arrest or conviction took place. The expungement then removes the incident from your record completely, making it unavailable to the general public. Florida laws differ from most states so be sure to know your state's guidelines before attempting to expunge your felon.
Most attorneys are able to handle the entire process without the need for you to make an appearance in court, which saves you from frequent visits to the courthouse. Once the process is complete, you are now an ordinary citizen like everyone else and can live your life.
Expungement Services Offered for the Clients in Florida
Here are some other services available to those looking to expunge a felony in Florida.
Record Sealing (Adult and Juvenile)
If you were acquitted at trial or your arrest was withheld adjudication, you may be able to qualify for a record sealing. This process is relatively simple. Having a previous conviction may restrict you from sealing your record. This also applies to juveniles. They may complete this either by expunction, administrative expunction, or completing a diversion program (usually for misdemeanor offenses).
Expungement
Charges dismissed before your trial? Filing for your expungement will impact the outcome positively. Once again, this can not be completed if you have any prior convictions within any state at any time. Read more on expungement versus sealed records here.
Firearm Restoration
Many individuals with a felony are actually unaware that they may be able to restore their firearm right. You may need to fulfill some requirements before filing for your firearm restoration. 
Request a Free Consultation
Termination of Probation
The state of Florida may be able to terminate your probation early. You are able to petition the court to discharge you from any supervision. The court will have to discuss whether or not your probation termination will be beneficial to yourself and society. You can further increase your chances of this by paying off all fines.
Ridding yourself of a burdensome criminal record is one thing. But getting rid of a criminal record online can be nearly impossible, especially with a felony. This can lead to a loss of opportunities down the road such as college or jobs.
Fortunately, there are ways to reduce your presence online and allow you to take control of the online conversation. 
Using Online Reputation Management to Remove Your Criminal Record Online
Online reputation services have become a top choice for individuals that wish to present a positive image to anyone who searches for their name online. The online world has become our culture. Making it easy for unfavorable items to pop up within the search results for our name. This is why enacting an online reputation management strategy can be an extremely advantageous and beneficial option. This strategy includes the following:
Monitor

– Oversee the online conversation and see what others are saying about you. Using Google Alerts is an excellent way to receive notifications when new content is published about you. You can also consistently search for your name to uncover some of the top results on Google.
Promote

– Promote any positive content that can build up your image online, this is done by utilizing SEO practices. Pushing any negative content down and ultimately pulling positive pages up.
Suppress

– Suppressing any false or misrepresentative information that can harm your online personal image. This will save you from future loss of opportunities such as jobs or high ranking schools.
Recover

 – Recover from the loss of income or opportunity due to your negative online reputation. This will allow you to put your best foot forward online and continue to grow your online perception or business.
Final Thoughts on Expunging Records in Florida
This process will effectively push up any positive information pertaining to the search results within your name. During the interview process, employers will search for you. Anything deemed negative may automatically disqualify you from obtaining the position.
Therefore, utilizing an online reputation management strategy can effectively combat a negative online perception. Your online reputation is extremely important, and monitoring your online reputation is a must.
If you believe that online reputation management may be a viable option for you, contact GuaranteedRemoval for a free consultation, and more information regarding online reputation aid. Contact us today to expunge a felony in Florida.
Request a Free Consultation