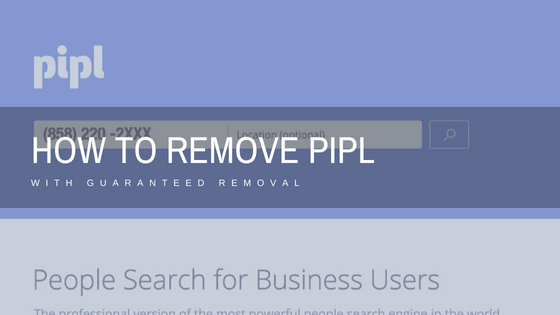 Learn more about Pipl Removal and protecting your online privacy today. 
With over 3 Billion searches, Pipl.com is a centralized database on public information. By simply inserting a name or social handle into the search bar, you can look up anyone. That is scary to think about. Get a Pipl removal solution today.
The most useful tool would be for businesses. Websites like Pipl (i.e. BeenVerified, InstantCheckMate, etc) are used when companies perform background checks on potential new hires. Say you are moving, your next landlord may want a glimpse into your past and it is only one click away. Make sure you know what is online about you so you never walk into an interview blind again.
Request a Free Consultation
Are these sites accurate?
Accurate? Not so much. Websites like Pipl.com are limited to the amount of information that a person puts online. If you are not on social media or if you are the 1% of the population without a cell phone your information may be skewed or nonexistent.
Pipl, directly informs their site visitors that they do NOT analyze, verify or otherwise examine the data they collect. Pipl will update any incorrect parts, but it is up to you to find it first.
We recommend that you contact us if you are seeking removal from this company's database.
Request a Free Consultation
What kind of information does Pipl collect?
After wondering what this website is about, you may want to take a deeper look into what is on there about you! Without payment, you already have access to very personal pieces of information. Information such as:
Name

Age

Where you live!

Career
Education

Related People

Social Media Accounts

..and much more.
How can I protect my personal information?
Pipl.com does not require an opt-in to gather your information. There are some measures you will need to take yourself. You would need to remove yourself from all the social media accounts that you control. LinkedIn is a large source for how Pipl obtains information, this can be frustrating because a lot of people use LinkedIn for their career and cannot simply delete their profile. Here are some steps for Pipl removal and what you can do to minimize your risk online.
What you can do
Remove as much social media as you can yourself (Facebook, Twitter, etc.). The less personal information you have online about yourself the better. Just delete it. Another tip is to use the privacy features to your benefit. Many Facebook users do not fully understand how much of their personal information is public until something bad happens. Catch it first, do not wait until identity theft happens to you. Also, remove your photos and name from family/friends accounts these can transcend onto your background report if you are tagged by name.
There are many other sites like Pipl online. Your reputation is a double-edged sword so know what is online about you. We can help you, fix your reputation score today!
Call us now: 844-461-3632
Request a Free Consultation